Research and Innovation
Academics—Research—Innovation: All three converge at Georgia Tech-Lorraine, the European campus of the Georgia Institute of Technology.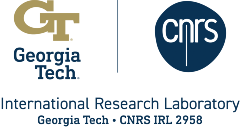 Georgia Tech - CNRS IRL 2958 is a joint International Research Laboratory (IRL) founded in 2006 by Georgia Tech and the French CNRS (National Center for Scientific Research)
With a mirror lab in Atlanta, the IRL is a bridge between France and Atlanta, with researchers, postdocs, students, and established academic and industrial partners joining forces for research in the fields of aerospace, dynamics, non-linear optics, smart materials, computer science and robotics.

Georgia Tech and French partners created the non-profit Institut Lafayette, as a innovation platform in Metz, France, in 2001, inaugurating an impressive 25,000 square-foot facility in 2014.
This innovation platform extends Georgia Tech's "Innovation Ecosystem." With state-of-the-art nanofabrication facilities for innovations in optoelectronics and advanced materials research, the Institut Lafayette is an important catalyst for economic development in the Grand Est region.